[ad_1]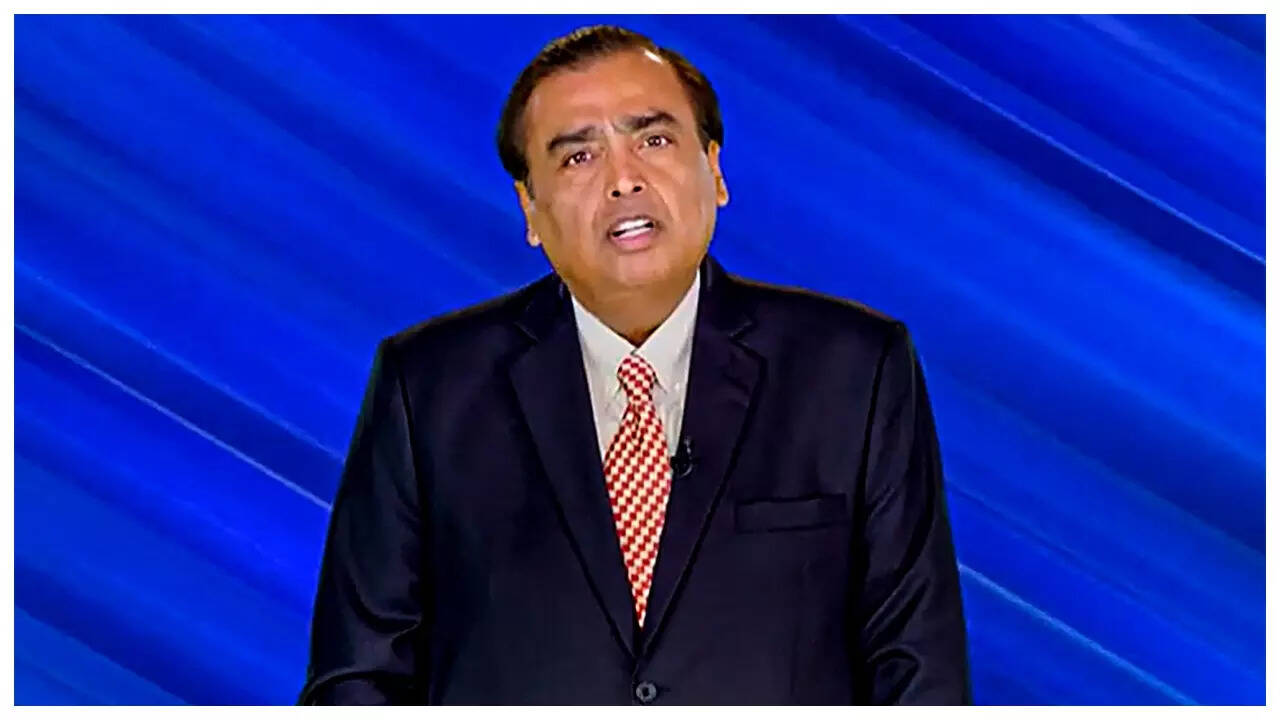 NEW DELHI: As it targets to complete national 5G rollout by the end of this year,
Reliance Industries
chairman
Mukesh Ambani
on Monday announced the launch of Jio AirFiber from September 19 — the day of
Ganesh Chaturthi
— which would provide high-speed broadband services to homes but over the air without the need to reach the last-mile through cumbersome ground fibre.
With as many as 450 million telecom subscribers, of which 50 million have already migrated to 5G, Ambani announced aggressive plans to further expand the scope of telecom operations, indicating that the company will continue to maintain a strong push in the business which has been witnessing rapid growth since its launch in September 2016.
"Jio's overall customer base has now crossed the milestone of 450 million subscribers, reflecting a year-on-year revenue growth of over 20%. Per-user data consumption on Jio's network has also surged, with the average user now consuming over 25 GB every month. This translates to monthly data traffic of 1100 crore GBs, representing a 45% year-on-year growth," Ambani said at the 46th AGM of Reliance Industries.
Indicating an aggressive expansion plan in 5G, Ambani said that the company has been adding one 5G cell to our network every 10 seconds. "… we will have nearly one million 5G cells operational in our network by December."
He said the company began 5G rollout last October. "In just nine months, Jio 5G is already present in over 96% of the census towns of our country. And we're on track to cover the entire country by December of this year. This makes Jio 5G the fastest-ever 5G rollout of this scale anywhere in the world."
On Jio AirFiber, the fixed-wireless broadband offering from the company, he said that the effort is to provide broadband to areas that have remained unconnected due to the complexities and delays involved in extending optical fiber to their premises. "Jio AirFiber uses our pan-India 5G network and advanced wireless technologies to bypass the need for last-mile fibre. Through optical fiber, we can currently connect around 15,000 premises daily. But with Jio AirFiber, we can supercharge this expansion with up to 150,000 connections per day. That is a ten-fold increase, expanding our addressable market over the next three years to over 200 million high-paying homes and premises."
Ambani also outlined aggressive plans for Artificial Intelligence (AI), terming it the "most exciting frontier of growth" for Jio. Ambani said the company will create up to 2,000 MW of AI-ready computing capacity, across both cloud and edge locations, while adopting sustainable practices and greener future.
A global AI revolution is reshaping the world and intelligent applications will redefine and revolutionise industries, economies, and even daily life, sooner than expected, he said, adding that to stay globally competitive, India must harness AI for innovation, growth, and national prosperity. "Here is my promise to our countrymen. Seven years ago, Jio promised broadband connectivity to everyone, everywhere. We have delivered. Today Jio promises AI to everyone, everywhere. And we shall deliver," he said.


[ad_2]

Source link