[ad_1]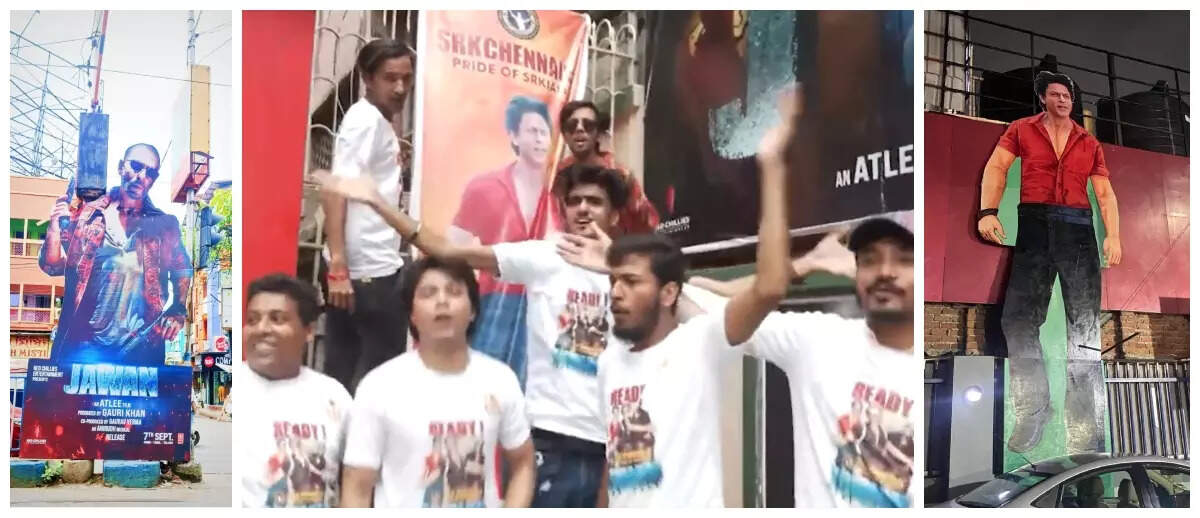 Shah Rukh Khan
has unleashed a wave of excitement with the release of his much-anticipated film, 'Jawan.' This marks his second film of the year, following 'Pathaan,' and the frenzy surrounding it is reaching its zenith. The advance booking for 'Jawan' commenced last Friday, triggering a tsunami of enthusiasm among fans. Surprisingly, 'Jawan' surpassed 'Pathaan' in terms of advance bookings, indicating that it may outperform its predecessor in terms of box office earnings.
The competition among multiplex owners has reached new heights as they vie for the coveted title of hosting the first show of 'Jawan.' Until Sunday, the first show in Kolkata was scheduled to commence after 6 am. However, Miraj Cinemas, a multiplex in New Town, defied convention and opened bookings for a 5 am slot on Monday, making it the earliest 'Jawan' screening in Kolkata and possibly all of West Bengal.
While this move raised quite a few eyebrows, In Bengal's Raiganj, the film will be screened as early as 2:15 am!
Amit Sharma, the managing director of Miraj Cinemas, emphasized the importance of accommodating the fervor of fans, asserting that their Kolkata hall had sold the highest number of 'Jawan' tickets. He expressed optimism that most of their first-day shows would be houseful, a testament to the eagerness of fans to be among the first to witness their favorite actor's performance.
The unprecedented 5 am opening for 'Jawan' is a historic event in the Bengal film exhibition scene, surpassing even the hype around movies like 'KGF2' and the 'Avengers' series, which had their first shows after 6 am. Shah Rukh Khan has thus broken his own record, with 'Pathaan' starting at 6.45 am in Kolkata. Film presenter Satadeep Saha praised this enthusiasm, predicting that it would drive more audiences to theaters and result in greater profits for everyone involved.
While the ticket prices are extremely high in several parts of the country, a few halls like Lali Cinema in Barasat, Pdma Theatre and Barrackpore's Amala Cinema are selling tickets at only Rs 60! This is by far the lowest ticket price across India.
Notably, the Shah Rukh Khan Behala Fan Club had initially planned a midnight screening of 'Jawan' at Ajanta Cinema Hall, but they were advised by the production house to start the show after 6 am. Additionally, there were rumors of a Wednesday midnight screening at Inox, South City, but it was canceled due to a lack of permission from the shopping mall owners.
'Jawan' has set the stage for an extraordinary cinematic event, with fans eagerly awaiting the opportunity to catch the film in early morning screenings across West Bengal, and multiplex owners competing fiercely to cater to this fervent demand. The film's success and record-breaking early screenings bode well for the industry, drawing more audiences to theaters and promising significant profits.


[ad_2]

Source link